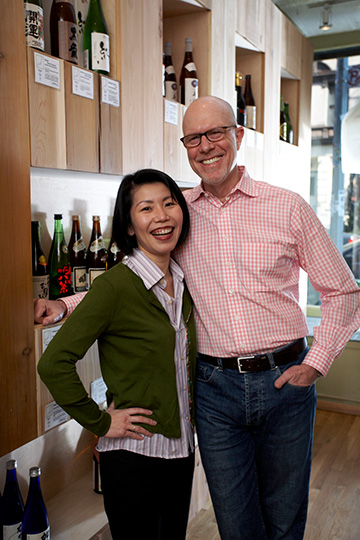 Our dream? To share our excitement about premium sake with kindred spirits like you. Although we've tasted or drunk (yes, there is a difference) a number of different sake, we're always seeking to learn something new about it. We've studied under Sake Samurai and nihonshu authority extraordinaire John Gauntner at his Professional Sake Course in Tokyo, worked in and visited numerous sake breweries, izakaya (sake pubs), and sake shops throughout Japan. We continuously experiment at home with food pairings both Japanese and Western (Cheese with sake? Absolutely!). And we still realize that we've only scratched the surface of the tip of the "sake iceberg!" There is always more to explore and learn and we believe that the fun is in sharing that with you.

Rick's passion for sake began in 2000 with a trip to the then new East Village restaurant Jewel Bako during his 10-year tenure as Associate Publisher at Food & Wine Magazine. Their omakase dinner paired with a selection of different sake was a stunning revelation of the variety and versatility of sake...it was served slightly chilled and was nothing like that hot overly alcoholic "jet fuel" that he'd had at so many sushi restaurants in the '80's and '90's. As a long-time wine enthusiast, he was surprised to find that sake too had an alluring abundance of aromatics and flavors, all from the deceptively simple combination of rice, water, yeast, and a mysterious thing called koji. That seminal experience launched him into a headlong pursuit of sake tasting anywhere it was available and to more intensive research sessions with Hiroko at home. The origin of Hiroko's passion? Well, when you grow up in Japan where sake is an integral part of the culture, let us just say that hers grew a bit more organically.

Although there have been a number of high quality Japanese restaurants and sake drinking establishments in New York for years, there also continues to be dynamic growth. Along with this trend, sake has more recently begun to gain favor among non-Japanese restaurants as well. All of this has resulted in an ever-expanding variety of opportunities to sample and experience the pleasures of premium sake with a widening and increasing diverse array of food.

When we first opened in December 2007, we believed that the time was right for New York to have its first shop specializing in premium sake. We've been fortunate to continue to be able to welcome and serve not only our community but also those visitors to NYC who enjoy sake too! Now as always, at SAKAYA we focus on acquainting, educating, and familiarizing patrons with the pleasures of drinking sake and pairing it with food. Our aim is to offer a learning experience that not only creates an appreciation for and enjoyment of drinking sake, but also for the Japanese culture from which it originates.

Please visit us. We look forward to seeing you at SAKAYA.

Kanpai!